Get Glowing Skin With Advanced "Jelly" Peel-Off Masks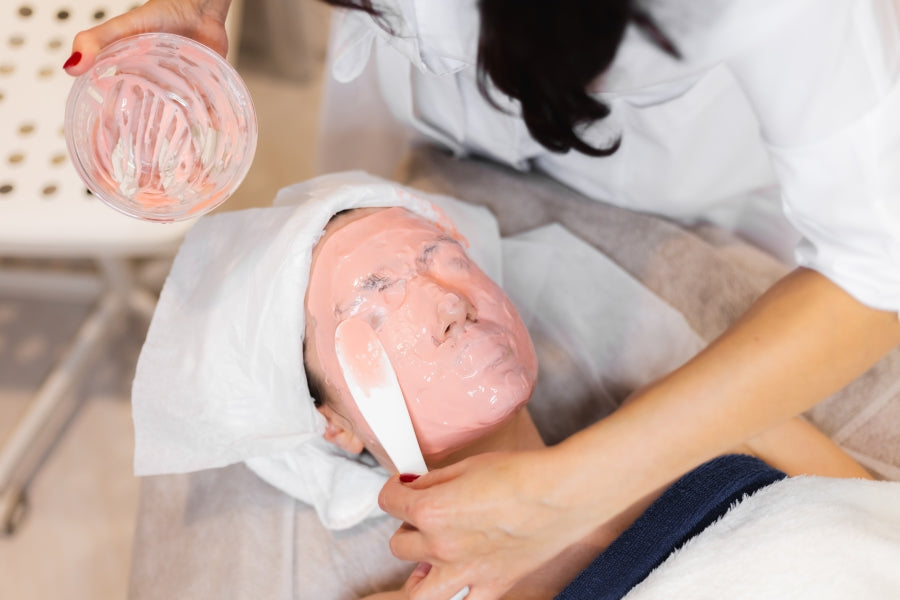 Introduction
We've all heard the constant hype about glowing skin. And let's be honest, we all want that youthful, firm, and bright skin.
We want to look in the mirror and love what we see.
However, that can only happen when we are intentional about what we do to our skin.
A good way for you to start being intentional and taking charge of your skin's health and beauty is by using Advanced "jelly" peel-off masks.
This article will tell you all you need to know about this easy-to-use beauty tool. Get ready to take charge of your skin's destiny and achieve that glowing skin!
What is an Advanced "Jelly" Peel-Off Mask?
Advanced "Jelly" Peel-Off Masks are basically masks made out of powder, and when mixed with water look like yogurt, becoming rubbery after being applied to the face, pushing the serum and all the ingredients deep into the skin. When peeled off, your skin is not damaged and reveals healthy, glowing skin. 
 When the mask is applied to the face, it will settle in for about twenty-five minutes, after which it is peeled off the skin, leaving it much smoother and softer.
The great thing about Advanced "Jelly" Peel-Off Masks is that they do not need to be rinsed and do not cause a mess after being applied.
By definition, they are physical exfoliants that remove impurities, clogged pores, and every kind of dirt from the face as they are peeled off. They detox, cleanse, and soothe the skin. They even give you a relaxing experience as they are peeled off.
Advanced "Jelly" Peel-Off Masks can be applied three times a week to prevent over-exfoliation - or less if you have very sensitive skin.
How to Apply an Advanced "Jelly" Peel-Off Mask:
Choose the best advanced "jelly" peel-off mask for your skin type. People with dry skin should choose a hydrating mask, while those with sensitive skin should use one with non-inflammatory active ingredients.

Gather the tools to properly apply the mask. This may include a brush, a bowl to mix, a spatula to stir, and measuring cups or spoons for application. 

Cleanse your skin using a facial cleanser appropriate for your skin type. This enhances the absorption of the mask ingredients.

Apply evenly on your skin. Do not apply to hairlines, eyes, and lips.

Massage the mask into your skin using the tips of your fingers to keep most of the product on your face. Make sure it also spreads to your neck.

Put on the mask for about twenty minutes. It's also great to take this time to relax and meditate.

After the mask has been set properly, gently peel it off. Don't pull too hard! 

Moisturize your skin using a thin-layer moisturizer appropriate for your skin type. 

Continue with the rest of your skincare routine.
Choosing the Best Advanced "Jelly" Peel-Off Mask for Your Skin Type:
It is very important to get a mask that is suitable for your skin type and contains all the ingredients that you need for effective skincare.
The Bio France Lab Advanced "Jelly" Peel-Off Mask has a base with the highest quality of algae, rich in vitamins and minerals. This alginate base gives an occlusive action. This means that it locks in the ingredients of the jelly mask and allows the skin to fully absorb and utilize them. That leaves the skin glowing, smooth, and refreshed. 
The masks are chemical-free to give powerful age-defying results. Adding a serum also increases efficacy. A serum helps to activate the active ingredients in the mask, retain them in the skin and prevent any kind of irrational to the skin. .
For Normal to Mature Skin: 
The 24Kt Gold Elite Advanced "Jelly" Peel-Off Mask: This is ideal for normal to mature skin. It offers a deep treatment using 24KT gold, pearl powder, and hyaluronic acid. It stimulates collagen growth and reduces the appearance of deep lines. The pearl powder and hyaluronic acid also brighten the skin and leave it supple. 
The Lifting Hydrating Antioxidant Advanced "Jelly" Peel-Off Mask: This mask is for normal to mature skin types and is specifically used for lifting and tightening the skin. It consists of black currant and grape, which are antioxidants for a firm, toned, and moisturized skin. It contains ginseng, which lifts the skin and prevents wrinkles. The hyaluronic acid also locks in mousse, thereby leaving a vibrant and youthful appearance.
For All Skin Types:
The Collagen and Rosehip Stimulating Advanced "Jelly· Peel-Off Mask: This mask contains damask rose, chicory, and collagen peptides as its active ingredients. It is made for all facial types and helps hydrate and revive the skin for a youthful glow. It also reduces scarring and photo exposure and locks in moisture.
The Vitamin C and Ultra-Bright "Jelly" Peel-Off Mask is also a wrinkle fighter and brightener for all skin types.
The Injection-Like Advanced "Jelly" Peel-Off Mask, with its coconut, brown algae extract, and Argireline peptide prevents wrinkles and fine lines. These ingredients hydrate, soothe, and firm the skin. 
The Medi-Cold Cryo Healing Advanced "Jelly" Peel-Off Mask: This mask will take you to the sweetness of mint and flowers. As the name implies, it's an all-skin-type jelly peel-off mask for cooling the skin and reducing inflammation. It also has vitamins E, C, and A, which tighten and heal the skin.
The Seaweed Advanced "Jelly" Peel-Off Mask: This is the detoxifier and purifier. The seaweed complex detoxifies and exfoliates the skin to remove impurities. The skin becomes smooth and clear, helping to retain moisture, tone, and smooth the skin. It also lifts the skin and reduces wrinkles and lines. 
The Chocolate Invigorating Advanced "Jelly" Peel-Off Mask: This goes deep into the cellular level, healing the skin, softening the epidermis, plumping, and increasing circulation. It improves the radiance, consisting of vitamin C, magnesium, omega-6 fatty acids, and cocoa.
The Botanical Hemp Advanced "Jelly" Peel-Off Mask aims for cell regeneration. It plumps, hydrates, and balances the epidermis. Cannabis sativa oil is known for plumping the skin while algin and coconut oil keep the skin firm. Omega-6 and turmeric powder prevent inflammation and act as natural antiseptics.
For Acne-Prone to Oily Skin:
The  Acne Control Purifying Advanced "Jelly" Peel-Off Mask: For acne-prone to oily skin. It is the perfect magic for clear skin. The active ingredients, tea tree oil, Willow leaf extract for Sialy glucose, and Niacinamide absorb excess sebum, reduce scarring and inflammation and reduce hyperpigmentation. The Sea silt stimulates the blood flow for more vibrant skin.
For Dry Skin:
The Super Hydrating Olive Oil and Aloe Vera Advanced "Jelly" Peel-off Mask is best for this. It hydrates the skin and stimulates collagen growth. The active ingredients Olive, Aloe Vera, spirillum, and wheat germ oil give an emulsifier layer of skin and a soft velvety texture
For Sensitive to Normal Skin:
The Sensitive Oatmeal and Lavender Advanced "Jelly" Peel-Off Mask
soothes and calms normal to sensitive skin. The lavender, oatmeal, and
Aster
tripolium
protect the skin with an extra layer of moisture and treat sensitive conditions. They reduce inflammation and increase circulation. Together with our French Azulene Serum, this mask is the perfect fit.