Can you use vitamin c with retinol?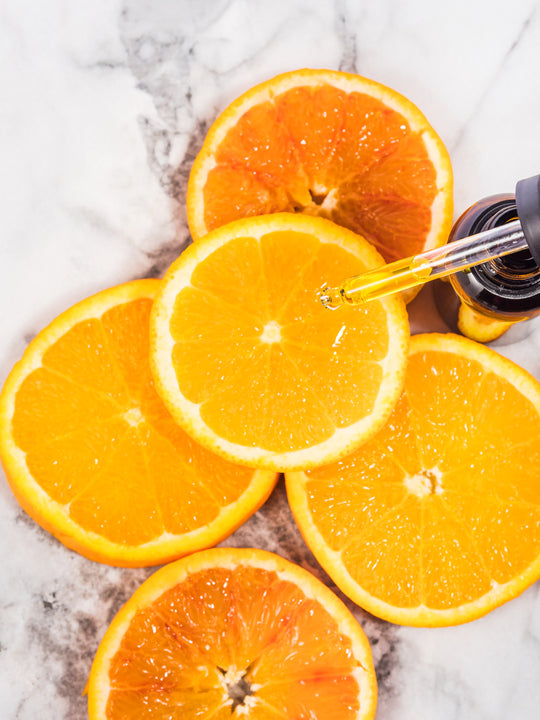 It's important to understand which skincare ingredients are in our products and how each helps. Some work in sync, while others are best not used together to avoid sensitivity issues. Two powerful ingredients often found in skincare are vitamin c and retinol. Both have excellent benefits for skin health, but is it too much to use both together? Or do they complement each other? Let's find out!
Vitamin C
Vitamin C does a lot more than just benefit your immune system. When used topically, it's an antioxidant, meaning it can help the skin by binding with something called free radicals and essentially neutralizing them. These free radicals include environmental pollutants and even UV rays from the sun. Antioxidants, like vitamin C, can negate (quite literally!) their effects. This means that vitamin c can help prevent things like UV rays from damaging the skin to begin with. 
Retinol
You'll often find retinol, a form of vitamin A, in anti-aging skincare. Retinol has several mechanisms through which it helps skin. It helps with skin cell turnover; this results in fresher skin showing up. It can also help with collagen synthesis, which is needed for firmness and elasticity of the skin. Without sufficient collagen, the skin begins to appear saggy. 
Can you use vitamin C with retinol?
So what is the verdict? Can both be safely used together? Or can that make your skin too sensitive? The answer is: they definitely can be used together! So whether you choose a product already formulated with both ingredients, or pair one skincare product containing vitamin C with another containing retinol, you're good to go to reap the benefits of both. 
Products with both vitamin C and retinol
Are you looking for quality products containing both vitamin c and retinol? Here are some of our best-selling products that can help you take advantage of both ingredients in one convenient skincare product:
Medi-Cold Cryo Healing Advanced "Jelly" Peel-Off Mask: This mask features vitamin C and retinol in addition to spirulina and niacinamide. Peppermint and menthol cool the face. This is a great anti-inflammatory mask for all skin types!
Collagen and Rosehip Stimulating Advanced "Jelly" Peel-Off Mask: For those who have more mature skin, this mask option is an excellent choice. Its active ingredients work together to help firm skin and reduce photodamage to reveal more youthful skin. 
Complete Eye Elixir Serum
: Do your under-eyes need a little extra care? This eye elixir moisturizes, firms, and tones the delicate skin under your eyes.